We are the bridge between the Mediterranean countries for water sharing
Lebanese Arabic and French European, I have the desire to recapture a common culture North / South Mediterranean: Because it's time to learn to share our knowledge, our sensibilities, our techniques, without hierarchy, without judging this is the field that decides, and the field, they are human beings need to listen.
It lacked a structure to make the connection between the very large organizations with big ideas and large and small communities all over the field. The indispensable role of our NGOs, this is to make sure the needs of the field to the ear of policy makers.
The Mediterranean basin is a large geographic area. Since water is scarce, we must imagine a global solution. So, for once, our action is part of a coherent set of great work at national scales. In short, the Embassy of Water is a piece of a puzzle, a puzzle, each piece is essential. Our is called the Mediterranean Union of Young Water Ambassadors.
Jeannette Pretot
President of the Water Embassy



Our history
Founded in 2006
,
the Water Embassy
is
a
1901 association
outcome of the
finding of
unequal
access to water
on Earth
.
The
association aims
to work
on
water issues
in emerging countries.
It
is
divided into several
areas:
awareness
, education, information
,
realization
.
The public
decisively
,
she organizes
among other actions
,
Water
Classes
for
all
levels
of
school
with the support of
the
Water Agency
Seine
Normandy
,
as well as
decentralized cooperation projects
based
on
1
%of
the
Oudin
/
Santini
law.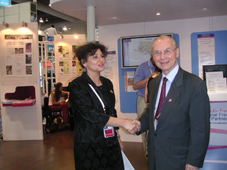 Jeannette
Pretot
and
Jacques
Oudin
,
honorary president of
the
AdE
Our work

revolves

around two areas

:

youth

and good

water governance

.

The first is expressed

through

the Union of

Young Water

Ambassadors

(

UMJAE

)

,

the second

is facilitated by

a tool for

decision support

:

STRATEAU

.

The

tabs

on this site

will help you discover

our

present actions

,

past and future

.
AdE and the UMJAE
The Water Embassy in partnership with universities, engineering schools and among others the Mediterranean Network of Engineering Schools, held during the first quarter of 2008-2009 school classes in Mediterranean Water the Mediterranean countries.

The Mediterranean Water Classes were based on the device of Classes Water Agency of Seine Normandy Water whose key issue is to expose students to the realities of water and its players, with a adaptation taking into account the Mediterranean dimension.

Over the Mediterranean Water Classes, students of engineering schools in each participating country, have established an inventory of water in their country, then good governance of this water, and then propose a field action in relation to the Mediterranean Sea. The presence of an elected official and a professor has guaranteed the quality of expertise and that of the proposed action.

The goal of this first phase was to create a network involved young players in the field close to the people who are the makers of tomorrow.